Unit 11, 86-90 Pipe Rd,
Laverton North Vic 3026 Australia
Mon - Fri
8:00 am - 6:00 pm
+61 411 117 201
Please Call or email for Prices
and Availability
The V113 comes assembled with 10:1 compression forged
pistons, S&S Super G carb, a S&S 600 camshaft and
Super Stock ignition. Polished finish with billet gear cover.
Fits 1984-1999 Harley-Davidson Evolution big twin chassis.
The new V111 touring engine is designed for torque more than
top end horsepower. The short 4-1/8 inch stroke is equal to the
large 4-1/8 inch bore, which minimises vibration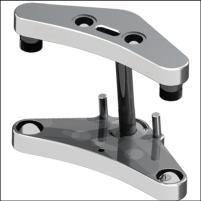 Ultima triple trees chrome billet
Ultima Billet Trees with Hidden Stem Nut
Ultima Billet Blind Trees
Ultima boomerang style
Ultima Billet Boomerang Blind Tree
Ultima Billet Boomerang Blind Tree Chrome
plated boomerang style billet trees for
41MM fork tubes. These trees offer an
extremely clean custom look without the clutter
of the stock style tube caps and stem nut.
© Copyright 2013 Mainframe Custom Cycles. All Rights Reserved



CALL OR EMAIL FOR MORE
INFORMATION
Call Adam:
+61 411 117 201
info@mainframecustomcycles.net.au
We accept the following
payment options